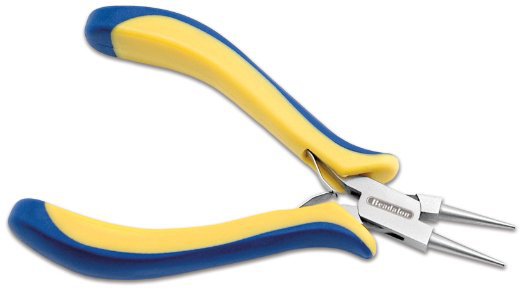 The Round Nose Pliers have smooth and round jaws which are used in the making of loops and curls in wires. These pliers have two conical jaws. They are used for making loops with beading wire or other materials. The loop size is determined by where you position your wire on the jaws of the pliers. If you want to make small loops, you make it near the tip of the pliers; otherwise larger loops are made closer to the hinge of the pliers. All wire wrapped jewelry will use these pliers.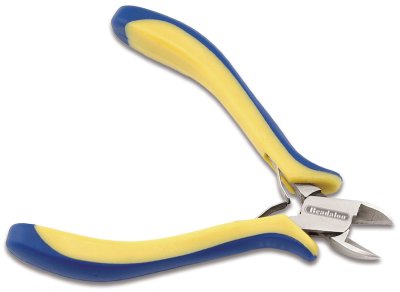 T
hese Wire/Side Cutters have sharp jaws that will help you cut jewelry chain and softer beading wire to size. You can use them on jewelry findings, like eyepins and headpins, to cut off any excess and leave you with a nice neat finish, and they can also be used to cut shapes out of sheet metal.
These pliers are the perfect all-purpose tool that should be bought as soon as possible. They are among the most important jewelry making tools that you will need to begin any project.

They are also called chain-nose pliers, and are used to bend, cut, hold and manipulate all the wire and findings that you will be using. 

Chain nose pliers are similar to flat nose designs except that they are pointed. These kinds of pliers are used to access tight areas. They can also be used to tuck in wire ends and grip the wire. Apart from that, they can be used to open and close jump rings too.

They come in very handy for holding jewelry, pulling wire tight. You can also use them to fold over the wire to make a right angle and to basically grip anything that is difficult to do with your fingers. They are also used for creating sharp bends and can be used for almost every other jewelry making job. The serrated type has a roughened surface which is great for giving you a really strong grip. The only drawback is that the serrated edge can mark some surfaces.
Once you have made a few pieces, you might also prefer to buy some round-nose pliers that make looping the wire a bit easier.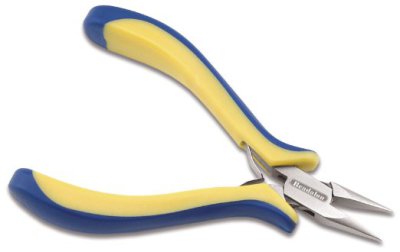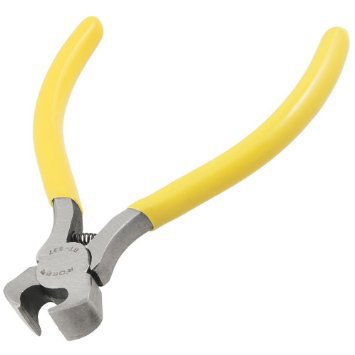 The End Nipper/Cutter has jaws that are blunt with blades perpendicular to the handles. It is used for making sharp and clean cuts on wire. The blades at the end have more cutting leverage.
Split Ring Pliers are designed to open the split rings just enough to slide them onto the end of your finding and then have them close right back up without distorting the ring.   
Simply insert the curved tip of the pliers into the ring side and by squeezing the pliers handles, it opens split rings. In adding charms, pendants or beads to the ring, the curve tip securely holds the ring.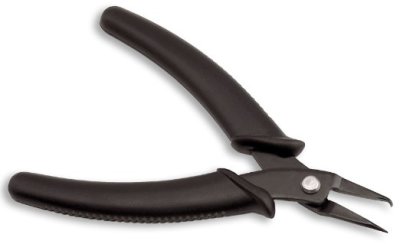 The Thread Cutter/Clipper, is for quick snipping work, these easy-to-use clippers are designed with no finger holes. Spring action handles and sharp blades make these a handy tool.   
Easily cuts through a variety of bead and craft materials such as thread, thin wire, textiles, yarn and more.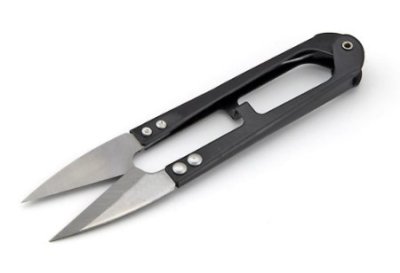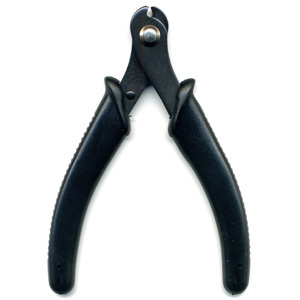 Memory Wire Cutters are made specifically to easily cut hard wires such as memory wire (steel) and precious metals. These shears will create a straight (flat) cut, so they work wonderfully for headpins too. Rubber coated, spring return handles are easy to use. 

As Memory Wire is a very hard and strong wire, it is recommended that you use Memory Wire Cutters which are specifically designed to easily snip through the hard steel. Do not use other cutters as this will result in either damaging yourself or your cutters and also leaves a sharp edge on the wire.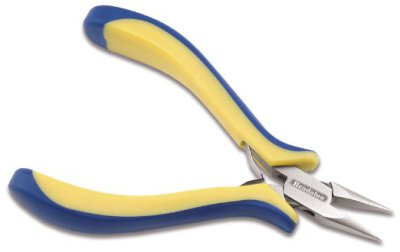 Flat/Chain Nose Pliers are used in hard to reach places and are ideal for working with delicate items. They are one of the most-used tools in a jewelry artist's arsenal. They have endless uses in making jewelry. They have a broad tip and a wide, flat gripping surface on the inside.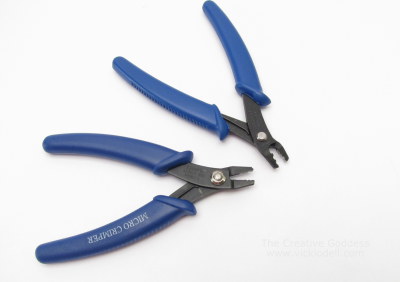 Crimping Pliers are an invaluable tool for stringing beads, as they easily secure crimp tubes to your beading wire. The jaws have two notches (when closed, one notch forms an ''O'' shape, the other a ''U'' shape). To crimp, first squeeze the crimp tube or bead in the ''U'' shaped notch to lock it into place. Then squeeze the crimped tube in the ''O'' notch to further secure and round it.
CURVED/BENT CHAIN NOSE PLIERS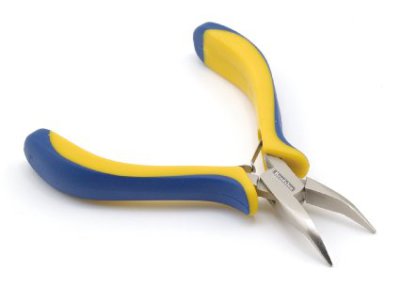 Curved/Bent Chain Nose Pliers are used to reach into tight places to grip components, close jumprings, bend wire and stabilize a design while working. The bent tip allows access into difficult areas without blocking your line of vision.
There are also a number of other smaller tools which are quite essential in jewelry making:
One of them are Tweezers. 
These are good for tying knots and picking up small items and beads. Tweezers are available in a variety of end tips. These are essential when doing beading techniques and they can also be used to undo mistakes occurred while knotting.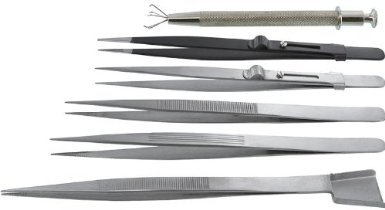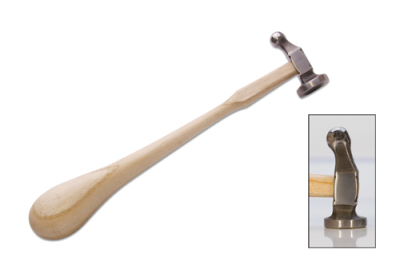 A Chasing Hammer has a large face for flattening and a ball-peen side for riveting and metal design (the "hammered" look). The forged head is wedge mounted on a wooden handle. This hammer is slightly convex so there is a large striking area but the edges are smooth.  If you work with Metals, you will need a sturdy Chasing Hammer.
Apart from jewelry tools, there are also some essential elements to consider when making jewelry.

First of all, you are going to need adequate lighting. A well-lit jewelry making studio or work station is very essential in creating some beautiful pieces of jewelry.


Another essential element is a good working surface. When you have a good working surface, you will be able to carry out your jewelry making task efficiently. Moreover, you will also save a lot of your time because you will not need to chase after rolling beads, and a Beading Board will be a great advantage. 

They do make stringing much easier! They have a deep groove that you can use to hold and arrange the beads before you string them. The inbuilt measurements display the length as you design.

Beading Boards are most helpful when stringing multiple strands for a necklace or bracelet, as you can see the length each strand will be before they are strung.