HOW COLORS ARE CREATED
​

​
Learning how colors are created will give you a better understanding and appreciation for the various combinations of colors used in beading designs.

PRIMARY - First tier of colors:
The three PRIMARY colors RED, YELLOW and BLUE, are called "PRIMARY"because they cannot be mixed from other colors.

SECONDARY - Second tier of colors: When two "PRIMARY" colors are mixed together, they form a "SECOND TIER" of colors.The Secondary colors are RED & YELLOW = ORANGEYELLOW & BLUE = GREENBLUE & RED = VIOLET

TERTIARY - Third tier of colors: When the first six colors are further mixed, one "PRIMARY with one adjacent SECONDARY, they result in a "THIRD TIER".
​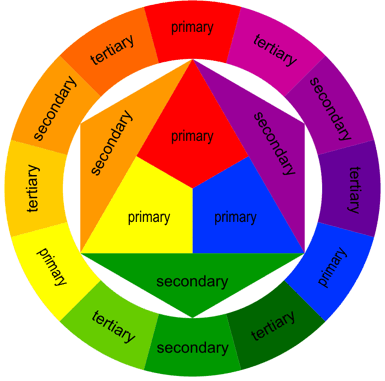 The "TERTIARY" colors are:

​
YELLOW/GREEN
BLUE/GREEN
BLUE/VIOLET
RED/VIOLET
RED/ORANGE
YELLOW/ORANGE
ADDING BLACK, WHITE OR GREY​

​When BLACK is added to a hue, it deepens its value; when WHITE is added to a hue, it lightens its value. To add further nuance, hues, tints and shade may be mixed even further by adding GREY of the same value to create a tone. The value of a tone remains the same as the original color

 
A general term for what you see when light falls on an object. This may include objects that are black, white or grey.


Sometimes used interchangeably with color, it actually applies only to pure color at full 100% saturation,not mixed with black, white or grey.  The term hue is also used to describe the basic color of a shade, tint, or tone. For example, mint is a tint of the green hue, navy is a shade of the blue hue and dusty rose is a tone of the red hue.



These terms are often used incorrectly, although they describe fairly simple color concepts. If a color is made lighter by adding white, the result is called a tint.  If black is added, the darker version is called a shade, and if grey is added, the result is a different tone.

TINTS:
- Adding white to a pure hue:
SHADES:
- Adding black to a pure hue:
TONES:
- Adding grey to a pure hue:

VALUE is the lightness or darkness of any color.
A color to which BLACK has been added is called a "SHADE",and has a darker "VALUE".
A color to which WHITE has been added is called a "TINT", and had a lighter "VALUE".

Value can suggest depth, volume, and mood. PINK is a "TINT" of RED, BURGUNDY is a "SHADE" of RED.
​
COLOR:
HUE: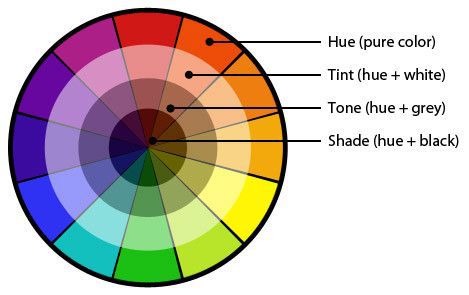 TINTS, SHADES AND TONES: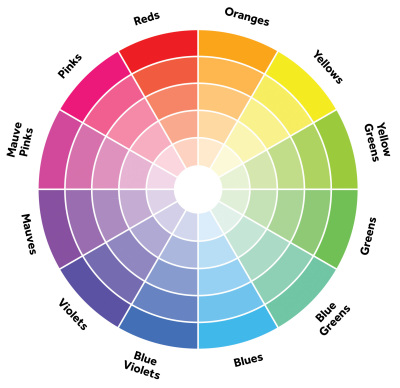 LIGHT VALUES are Soft, Restful, Light and Airy.

MID-RANGE VALUES are Strong, Confident, Youthful and Active.

These values denote youth and action.
Grey, Taupe, and Off-White are pleasing neutrals for this range.
Mid-Range combined with black or white make a bold statement.

DARK-VALUES or Jewel tones are considered Conservative, Powerful and Authoritative.

They close up space and make it seem smaller.  Black and Charcoal are good background
choices or neutral additIons for darks.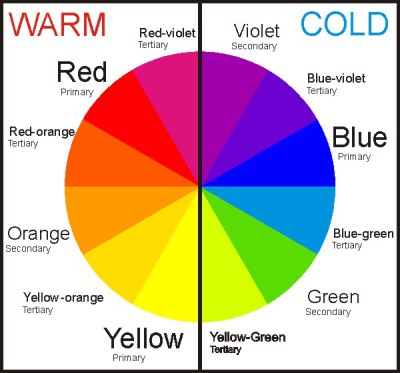 WARM COLORS: are the YELLOW, ORANGE, and RED range.  
They denote warmth, and make a color scheme look cheerful and exuberant. 
They come forward with vibrancy.

COOL COLORS: are the GREEN, BLUE and VIOLET range.  
They denote coolness, and look calm, clean and inviting.
They recede and are restful.

RED/VIOLET and YELLOW/GREEN contain elements of both warm and cool colors, they become warmer or cooler as they are combined

with colors which are warmer or cooler.