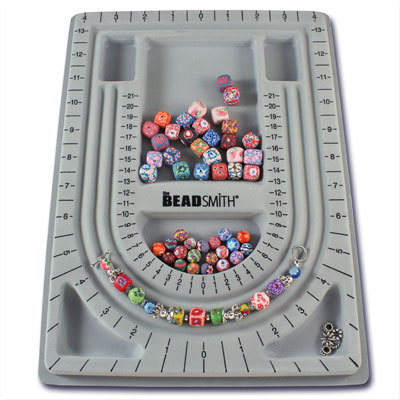 ​
A Beading Board can be a bead stringer's best friend. Using a Beading Board to help design and string beaded jewelry can be an enormous help and time saver. For the most part, they are very easy to figure out.  This quick tutorial will give you a few steps and tips to help you find your way around a Beading Board  for the first time.
BEADING BOARD DESCRIPTION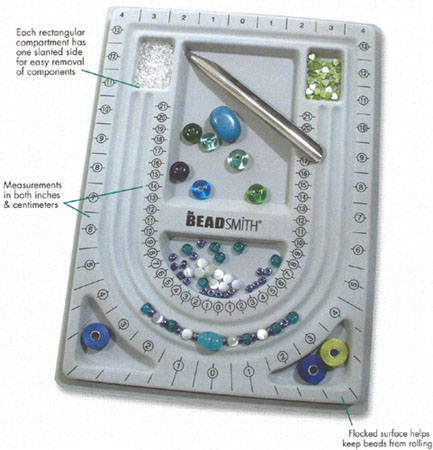 ​
First, there are a few different types of Beading Boards, but most will at the very least have one long groove around the board where you set your beads as you prepare to string. On either side of this groove are markings and numbers. Each long mark represents an inch, and each of the shorter marks represent a half inch. These markings help you determine the final length of a piece of beaded jewelry. In the centre of the board, are small extra compartments where you can store beads as you work
BEADING BOARDS FOR MULTI-STRAND JEWELRY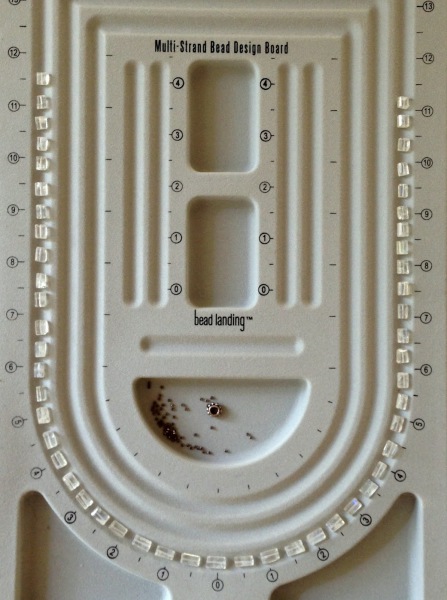 ​You'll also find some Beading Boards have more than one groove. This is helpful if you plan to string a beaded piece that has more than one strand.

With multi-strand jewelry, these grooves will help you ensure that they are the same length or in graduated lengths, depending on what you want to design.
FIRST STEP WHEN USING A BEADING BOARD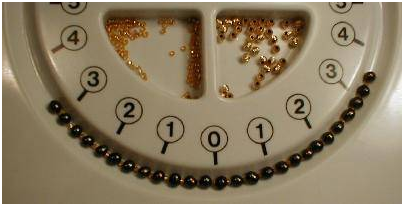 ​Once you have your Beading Board ready, it's time to select your beads and start to add them to the groove in the board. At this point, don't worry about length or what goes where, just get your beads together and start adding them to the board.
NEXT STEP - ARRANGING THE BEADS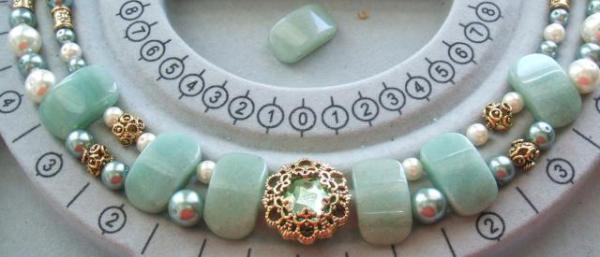 ​The next step is to start determining where you want to place your beads in the design. If you already have a pattern to follow, great, just go ahead and put them in the correct order on your board. However, if you are not sure what pattern you plan to string yet, this is when a board becomes super handy. Just play with the arrangement of your beads, moving them into different configurations until you find a design that you like.
START STRINGING THE BEADS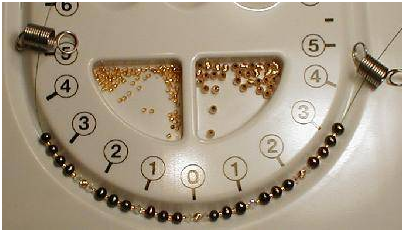 ​Now you're ready to go ahead and string up your beads onto your chosen stringing medium. The string pictured here is actually 
beading wire
. On either side of the strung beads are bead stoppers, fabulous little gauges that help make sure you don't lose your beads before you're ready to finish.

You'll notice that I have the strung beads back on the bead board. This is because it's a good idea after stringing to double check that you have the desired length. You'll also notice that my strand is a little longer than 6 inches. This is because I am allowing about 1 inch or so for the clasp. This is something to always consider before finishing a piece of beaded jewelry.