PANDORA AND EUROPEAN STYLE BEADS

Most Murano and Pandora Beads are made using an air pump burner [lampworking] or torch and mandrel technique,once the mandrel was made by using an iron rod covered with a release material stuck on the top of the rod,now a copper tube has taken its place.

The copper tube helps make many other different shapes.The lamp-work method is the most time consuming method of [glass bead-making], as each bead must be formed individually.

Using a torch for heat, Murano [glass] rods and tubes are heated to a molten state and wrapped around a metal rod until the desired shape is achieved.

Several layers of different colored glass as well as gold and silver leaf are used to produce the desired effect.After the bead is slowly cooled, it is removed from the rod which produces a hole for eventual stringing.

Wedding cake beads "Fiorato"(decorated with glass overlays featuring roses, swirls and dots) and Venetian foil beads (with their fusion of color, gold and silver foil) are just two of the kinds of beads made using the lamp-work method. Pandora is more than the name of a legendary figure with an infamous box. 


THE HISTORY OF PANDORA BEADS
Pandora Beads originated in Copenhagen, Denmark and after it became established in Northern Europe, it started becoming known in the States. It was in 2002 when Pandora Jewelry first appeared in the North American jewelry industry. This jewelry line was inspired by Greek mythology and it combines fashion with versatility to produce the bead and charm bracelets which can be found today.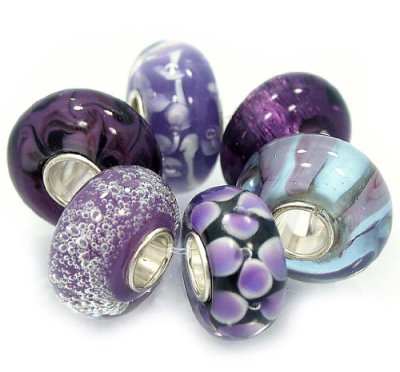 ​​
During 1982, Pandora opened its doors to the public of Copenhagen, but, it was only in 1999 when they started becoming established and tapped into the market for customizable jewelry.

Pandora was the brainchild of Winnie Enevoldsen and Per. With the assistance of designers Lisbeth Larsen and Frandsen, they were able to produce a line of customizable jewelry.

Pandora Jewelry is quite unique and the line does not only include bracelets and necklaces. There are also rings and earrings.

Pandora rings are known as Love Pods and what's unique about them is that they are stackable rings which come in exclusive styles.

People can blend these rings to come up with various styles and designs.  Love Pods are usually made of 18k gold and they consist of precious and semi-precious gemstones such as diamonds, peridot, topaz, citrine and amethyst.

Today, Pandora jewelry has numerous fans and buyers from over 20 countries, and there are more than a thousand people who are employed in the production of Pandora jewelry globally.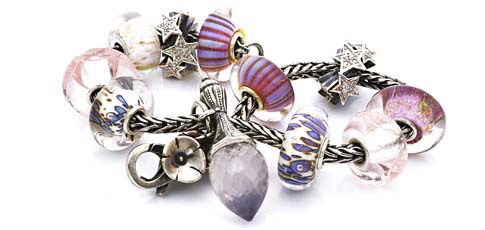 According to the Greek mythology, Pandora was a woman who was created by the Greek God Hefaistos.Pandora was sent to earth with a box and when she opened it,all the evils of the world escaped, hence the expression "Pandora's Box".Only hope and opportunity remained.
It is hope and opportunity that are the inspirations behind the Pandora Jewelry design.

From jeans to formal wear, the Pandora Bracelet enhances any attire. Each bracelet is as unique as the woman who wears it. 

You can create your own look and style with "Pandora or European Style Bracelets" for every unforgettable and charmed moment. Bohemian romantic, the elegant chic,the raw elegance, the 60's flower power, the charmed sophisticate,the billionaire,the simplistic minimalist or the pure feminine. 

Pandora and European Style jewelry can change to fit your mood and express your personal style.

USE PANDORA OR EUROPEAN STYLE BEADS TO CREATE YOUR OWN JEWELRY
Pandora Style Beads (European Style Beads) and Pandora Style Jewelry is well-known in the fashion jewelry world today.

These beads are not only well known by their charming, elegant appearance, but also by their versatile usages.

Pandora Style Beads and European Style Beads are available in a large variety and range. Whether you choose to make up a bracelet with memories or one with your favorite animals or colors, the possibilities are endless. You can easily find these beads in almost any bead store because they are so popular, but they vary vastly in price and quality.

WHY PANDORA AND EUROPEAN STYLE JEWELRY BECAME SO POPULAR
It is the fact that they are so versatile and you can change the look or design of your necklace, bracelet, earrings or ring, easily and quickly.  As with traditional charm jewelry when you have completed your assembly, changing the beads is not really possible or practical, but with Pandora and European Style Beads however, the chains can be unscrewed and the beads slide off and you can add or change beads to make a new design.  This means that with an adequate supply of Pandora or European Style Beads you can come up with a huge variety of looks. 

That is why people say if you want to create your own unique jewelry designs, Pandora and European Style Beads and Pandora Jewelry accessories are your best choice.

Pandora jewelry making (European style jewelry making) includes, Bracelets, Necklaces, Earrings and Ring Shanks.

However, Pandora and European Style Beads are not only used to create bracelets, necklaces earrings or rings, you can incorporate them into any or your own beading designs and use them with various other beads to create your own unique bracelets or necklaces. 

Jewelry Artists like to create their own designs, but creating fabulous jewelry, and as a beginner it is not an easy thing, therefore, large hole beads are the easiest way to learn.

So if you are new to the field of beading and jewelry making, choose some "Large Hole Beads" to begin with.

As the name suggests, these beads have large holes, and the Pandora style beads (European Style Beads) are one of those kinds of Large Hole Beads.

They come in various materials, including wood, woven, metal, glass, lampwork, gemstone, Acrylic, Polymer Clay, Porcelain, Sterling Silver, Shell, Pearl, Zircon, Resin and more. All these materials can be produced as Large Hole Beads with different patterns, shapes, sizes and colors. Some of them have cores, just like Pandora style beads, and the others have no cores, but you can glue cores into the beads if you like.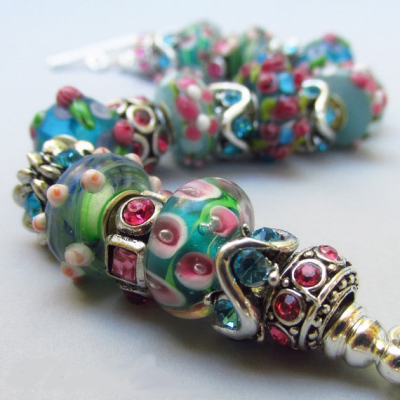 These beads are very versatile and can be strung with a wide range of stringing materials; they are perfect for stringing over seed-bead strands, chains, thicker design materials, cord and knotted designs. Charm Bracelets have been a popular gift to give for years, since they are so easy to make and to personalize. 

A new charm-style bracelet trend has popped up recently which features large hole beads strung onto a pre-made large bracelet or necklace chain. This is perfect for adults and children because it can be interpreted in a classic or elegant style, or with fun and youthful beads. 

Jewelry gifts with large hole beads and large hole charms can be given to Mom's on Mother's Day, for the arrival of a new baby, for a girlfriend's birthday, bachelorette party, bridal shower and for Christmas or any other occassion.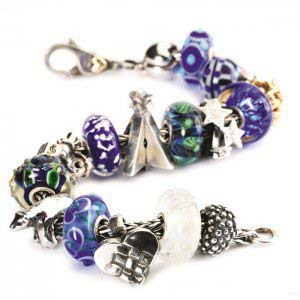 WHY WOMEN LOVE TO WEAR PANDORA AND EUROPEAN STYLE JEWELRY
Pandora and European Style Beads are all well-known to people around the whole world, and there are many different types made from different materials. They include Glass Beads, Gemstone Beads, Lampwork Beads and many others, and the Glass Beads are one of the most popular types.

Pandora and European Style Jewelry is growing in popularity because of the stylistic freedom that it offers. They are known for their high quality, beautiful designs and elegant appearance.

The Glass Beads are the only types which have the beautiful appearance of luxurious like crystal, and have a natural shine and sparkle that is inherent of the glass it is made with. They are available in an array of colors, sizes and shapes. 

The most widely used shapes include round, flat round, tube, and faceted flat round, and apart from those, these beads are durable, so you will be able to wear your beautiful unique Pandora and European Style Jewelry for a long time to come.

Pandora and European Style Beads can provide you with an opportunity to make your own jewelry, and has a lifestyle concept which is that there are many wonderful and special moments in woman's life. So handmade jewelry is a good way to show how special you are.

When you purchase these beads, please don't confuse the Pandora Beads with Troll Beads, as they are manufactured by two different companies.

Pandora Beads will slide onto a Troll Bead Bracelet or Necklace, but Troll Beads will not fit onto  Pandora brand bracelets or necklaces. 

HOW TO BUY GENUINE PANDORA BEADS AND JEWELRY ONLINE
If you are considering buying Pandora Jewelry online, then it is important for you to be aware of sellers who are out there to mislead you into buying fake Pandora jewelry and beads.

Pandora bracelets, rings, necklaces and earrings are a dream for many. Not only because they are expensive, but because this line of jewelry has a wonderful history.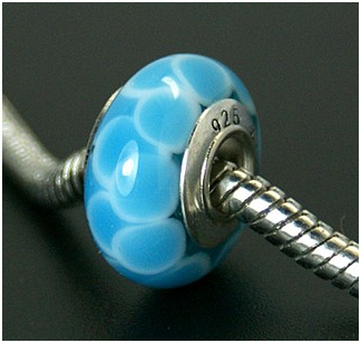 There are many people who sell fake Pandora Jewelry online and it is quite hard to tell whether you are buying the real thing or the fake one. Many people across the globe have been fooled by sellers, who claim to sell genuine Pandora Jewelry. If you are looking to buy genuine Pandora bracelets or rings online, it is good to know about all those things which will help you purchase the genuine thing. In this article, I will discuss some of the things that can help you identify genuine Pandora Jewelry from the not so genuine ones.

The best way to find out if an item is a genuine Pandora is by looking at the Pandora Hallmark on the jewelry. These days, many items from Pandora are marked as 'ALE'. They also include '925′ if it is made of silver or '585′ if it is made of gold.

'ALE' stands for Algot Enevoldsen who was Per's father, the founder of the Pandora line of jewelry.

If this hallmark can be seen on the jewelry, then it means that it is an authentic piece of jewelry. But, other copy-cat companies are also trying to include this hallmark in their fake jewelry. Therefore, you may need to look at other factors as well in order to identify the genuine ones.

AUTHORISED PANDORA RETAILERS
Another way of identifying genuine Pandora items is by matching the product description on the seller's listing with that shown on the 
Pandora Website
. Also, match the appearance of the beads. Although there are many copy-cat companies out there, their products will not exactly match what you can see on the official website of Pandora. Check out if the bead has painted glass. If it does, it means it is not an authentic Pandora.