THE HISTORY OF VENETIAN,MURANO,PANDORA & TROLL BEADS
Beads have been made of glass for over 5,000 years. The discovery of fire was the essential step in glass bead making. There is evidence as early as 2340-2180 BC in Mesopotamia of a method known as "core-forming" where they used a metal mandrel with pieces of glass held over a flame. Gradually as the glass softened, they would wrap it around the mandrel forming intricate ornaments.

These early beads or vessels were considered valuable and were preserved as they were placed in burial tombs. In Nuzi (130 miles north of Baghdad) beads were discovered that date to around 1400 BC. Even today, we make beads by holding glass rods over a flame then gently winding the molten glass over the mandrels. The invention of the blow pipe gave way to the creation of the Rosetta bead and the seed beads which sustained the bead making industry in Venice for centuries. Bead making is truly an ancient art form.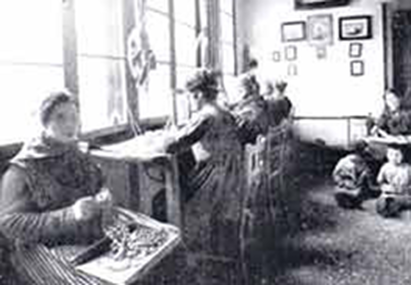 The history of bead making in Venice goes back to the days of Marco Polo when he returned from his travels with the beads of Asia. Local artisans took to their glass making skills to reproduce in glass the precious stones of Marco Polo. 

In Venice and Murano, the beading industry has historically been a woman's work. In the picture above you see the women working while caring for their children. During the 1920s - 1930s, the Conterie (seed bead) industry sustained Venice's glass industry. The wars took the men from the furnaces and between World War I and World War II there was little time to build up the industry. During the 1930s there were as many as 30 companies making the tiny beads, employing hundreds of women. 
THE HISTORY OF VENETIAN BEADS
The aggressive Romans who had subdued Egypt, borrowed the glass know-how from the Egyptian masters.

And since VI century Byzantium became the center of glass art. Byzantines widely used examples of glass production that used romans. This way, the first glass beads were made in Venice.  According to the first testifying documents the processing of glass in Venice began in the 10th century. 

In 1221, according to the decision of the council, all glass workshops had to be transferred from a city on nearby island of Murano because of frequent fires.

For a Long time it was a unique place in Europe where beads were made, and where. Venetians carefully preserved their secrets of creation of a glass. The glass masters, who had told anyone the secret of glass making, were threatened with death, and their relatives were sent to a dungeon.

In XIII the number of workshops on glass manufacture increased, many of which used to make beads.

At the end of XIII century the art of bead making had extended in Venice that in 1284 the Corporation of Manufacturers of Crystal started supervising the production of glaziers, being afraid of fake glass beads.

The Venetian beads and beads of the highest quality, various colors and shades were carried by merchants across all Europe. Masters and skilled workers decorated clothes, footwear, handbags, blankets and other graceful bagatelles. The European travelers and colonizers took these with themselves into foreign countries.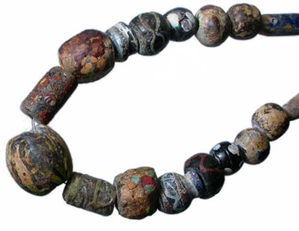 Inhabitants of Africa, used to give gold, spices, and furs for the beads.

For a long time nobody could compete with Venetian glassmakers. In many European Countries attempts to base manufactures of glass beads were undertaken, but these products competed in quality with Venetian ones. Only in XVIII century numerous attempts of the masters of Thuringia to gain secrets of Venetians had led them to the invention of an easy exaggerated glass beads. And then the Czech talented bohemian masters had mastered the manufacture of high-quality beads.

Moreover, they have learnt to granite it and to cover with enamels. Bohemia beads and beads differ by the big variety of colors, the sizes, forms and a facet. Now it is the turn of the Czech Masters to hide their techniques of bead production.

In 1445 the Senate of Venice had published a special decree providing strict punishment for  fake bead production, and not only for manufacturers, but also for distributors of false ornaments. So many masters appeared who in 1604 united with manufacturers of crystal in corporation of master-manufacturers of beads and color beads.

In the beginning of XVI century a new way of processing of the glass was invented, and received the name "over fire", or "over a lamp".

The Venetian beads were very highly appreciated and got world popularity. In the  XVII and XVIII centuries with the help of a special technique and usage of some materials (presumably wax, silver and fish scales) it was possible to create glass beads which simulated the well-known beads made by masters from the Muslim countries. And then the government of Venice had published again strict laws forbidding masters to open the secrets.

This is the history of the invention of glass beads in Venice. 
TYPES OF BEADS PRODUCED IN VENICE
SEEDBEAD - CONTERIE

Hollow tubes produced then chopped and re-fired for smoothness and color. Sold in shanks, pre-strung or by the kilo. Used in decorative jewelry and clothing. The peak of this production was in the early 1900s and today the industry is virtually non-existent in Murano.
ROSETTA OR CHEVRON

Produced from the canes known as Rosetta, which had a center hole. First produced in Murano, at the end of the 14th Century. It was made of a hollow cane and six layers of glass (white, blue, white, brick red, and white then finally blue). It was ground to produce patterns of 5 concentric stars with twelve points. The canes were chopped and this production method increased greatly the quantities of beads which could be sold.

Later as this cane was produced without the hole and the Millefiori canes were born which today create the famous Murano Millefiori beads or sometimes known as lace beads.
BLOWN BEADS (VENETIAN BLOWN)

With the introduction of the lampwork flame, bead makers discovered they could melt the canes and then blow the glass. Today our spiral blown beads and beads with stripes of color are produced using the Filigrana Method where canes of glass are laid down and picked up with a blow pipe.
LAMPWORK OR WOUND BEADS OR PERLE A LUME VENETIAN BEADS

Often called wound beads because the melting glass is wound over a mandrel. Originally the Venetian beads were wound over a ferrous mandrel which had been covered with a mixture of silica and clay which gave the bead some room for contraction when it cooled and helped remove the bead from the mandrel. This material was originally known as "fango" meaning mud, and legend is that it was, indeed, the mud from the lagoon.

In the 1920s copper mandrels were introduced into Murano by the Moretti firm and soon became the standard for making beads. It was considered economical as the mandrels did not need to be coated and minimized breakage in removing from the mandrel because the mandrel was cut off just below the bead and the entire bead was placed in Nitric Acid which etched the copper from inside the bead. However, environmental standards are adding to the cost of this process and many small bead makers do not have the equipment, rather they take bags of beads to one or two shops who specialize in this etching process. Today's bead makers in Venice and Murano use both methods, using stainless steel with a bead release material for more delicate beads or beads with silver which tends to burn (turn dark) if it touches the acid. Murano beads are made much in the same way they were thousands of years ago.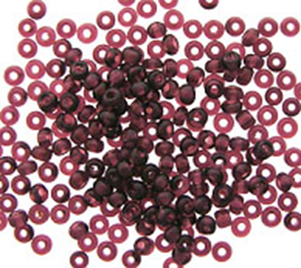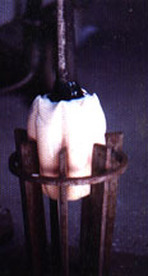 TIMELINE OF VENETIAN BEADS AND IMPORTANT DISCOVERIES
1292 Glass Furnaces Moved to Murano.
1308 Bead-makers Guild Formed.
1470 Canna developed in Murano around this time.
1511 Murano prohibited from exporting to Bavaria (Germany).
1797 Fall of the Venetian Republic.
1935 Copper Mandrels introduced.
1993 Venetian Bead Shop begins importing Venetian Beads.
1993 USA Society of Bead Makers begins Precott, Arizona.
1998 
VenetianBeadShop.com
 Online Shopping dedicated to Venetian Beads opens.
REFERENCES ON BEADMAKING HISTORY
The History of Beads by Lois Sherr Dubin

Perle e Impiraperle (un lavora di donne a Venezia tra 800-900) Arsenale Editrice ISBN 88 7743 077 X

Collective Beads by Robert K. Liu ISBN 0-9641023-0-7

Perle Veneziane by Consorzio Venezia Perle (1989)

The Book of Beads by Janet Coles, Robert Budwig(Contributor)

The Complete Bead Resource Book by Patricia Abahusay

The History of Lampworking by Robert A. Mickelsen

Coles, J. and R. Budwig. 1990. The Book of Beads. New York: Simon and Schuster

History of the Glass Bead (compiled by Lady Sveva Lucciola)

POPULAR KINDS OF VENETIAN GLASS BEADS AND COMMON TERMINOLOGY OF MURANO GLASS BEADS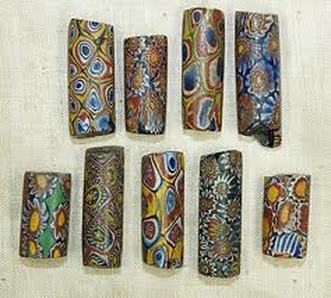 MILLEFIORI BEADS

Known as thousand flowers, lace beads or mosaic, these Murano beads have been popular since those early days. The Venetian bead is made by first gathering a small ball of clear or matching color transparent glass, then rolling the ball over small slices of the Millefiori cane or carefully placing them on the ball. The bead maker continues rotating and evenly heating the bead until the Millefiori slices are completely formed into the bead. Classic Venetian Jewelry has been made from these beads for more than a century. This is probably the best known Venetian Glass Beads.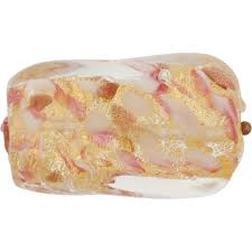 AVENTURINA

​

Aventurina (aventurine, or avventurina) was discovered or actually first produced in Murano by the Miotti family sometime in the 1600's, the creation of which was so prized, The Doge gave an exclusive license to the family to produce Aventurina. 

Most likely produced in the melting pots of the furnaces by accident, Aventurina is simply small suspended particles of copper and other minerals that attach to each other when the glass cools. It is also known as Stellaria. It gives many of our beads their bright sparkle, and works great with silver, gold, or copper-toned findings.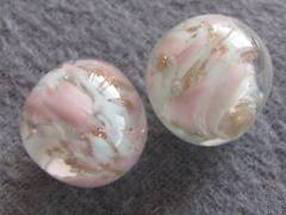 SOMMERSO GLASS BEADS

​

Sommerso means submerged and is a description of how this bead is made, small flecks of color, often Aventurine is suspended inside transparent glass. It is a simple Venetian bead, usually less expensive but very popular. Venetian Glass Jewelry using these Sommerso beads are popular even today. These were the beginning of the popularity of the Venetian Glass Beads.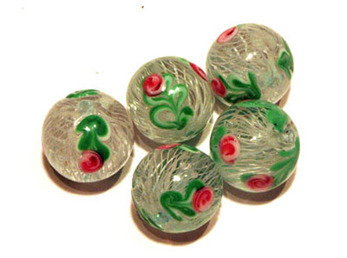 FIORATO

​

Decorated with flowers, as fiore means flower in Italian, this word means small flowers. The bead can be made in any technique, gold foil, silver foil, Sommerso, however on the outside there will be a small flower which is drawn using molten stringers of colored glass. Often there are also decorations on the exterior of Aventurina piping. Venetian Fiorato beads require more skill than Sommerso for making. Your Murano Glass Jewelry creations with Fiorato beads will be a stunning addition to your wardrobe. These Venetian Glass Beads are known around the world.

Gold Foil, White Gold and Silver Foil: Murano Beads are made by first making a small ball of the glass and then rolling the molten glass ball across thin sheets of 24kt gold foil, 24kt white gold foil or .925 sterling silver. The bead with this foil exterior is then completed by gently melting on top of the foil transparent colors of Moretti Murano glass. The 24kt gold foil under the colors gives it a rich glow, enhancing the color, while the 24kt white gold foil gives the bead a softer shade of color, refined and warm.

Using .925 sterling silver, the true color of the glass is brightened and becomes crisp. The white gold is an alloy with 18 kt gold foil and white colored metals, the same as in fine jewelry. Venetian Glass Jewelry is not complete without these standards.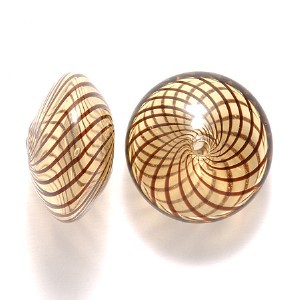 VENETIAN HAND BLOWN BEADS

​

The Blown Beads are the only beads made in a real Murano glass furnace or in small laboratories using "glory holes". They are made using a technique called Filigrana, the glass blower first takes a blowpipe and rolls over canes of colored glass giving the striping in each bead. They may be finished in spirals, or straight striping, and may be balls, or teardrop shape or our very popular pennies which are balls which have been flattened. The Venetian Blown beads may also be made in lampwork technique, or Perle a Lume (in Italian). In the case where they are made in lampwork, they begin with a larger cane of the Moretti Glass which they melt into a soft ball on the end of a small blow pipe. Their Blown Venetian Glass Hearts are made in this fashion, while the other Blown Beads are made in the Filigrana technique. Your authentic Murano Glass Jewelry made with these beads will follow traditions established long ago.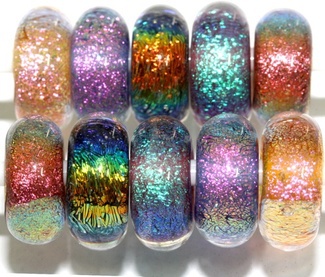 DICHROIC GLASS BEADS

​

The glass begins as sheets in the Moretti factory in Murano. These sheets of glass are exported to Los Angeles, California where high tech equipment applies the coatings under vacuum. A final trip back to Murano and their bead makers incorporate tiny chips of the dichroic into the traditional Venetian beads producing a marvelous mixture of old world style and modern technology.

The 
Dichroic beads
 are individual,no two are ever alike and held in the sunlight will appear different as a result of the coatings. They are spectacular and unique.
VenetianBeadShop.com
 introduced these Venetian
Dichroic Glass Beads
working with their bead makers in Murano. Venetian Bead Shop made this modern Murano Glass Jewelry popular and gives you a lot of bling.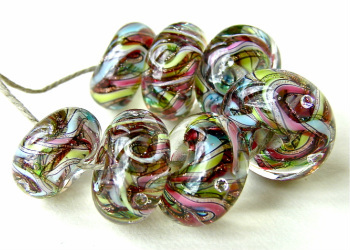 LAMPWORK GLASS BEADS

​

The term Lampwork is derived from the Venetian tradition which is known as "a Lume" which means at the lamp. Americans tend to think they invented it; however they have borrowed ideas, the very canes and built on centuries of the artist and craftsmen of Venice. Many people do not think of Venetian Beads as Lampwork Beads, however, lampwork simply means that the beads have been worked over a flame. This has had the same technique for thousands of years, only the energy source has changed. All beads made in Venice and Murano are lampwork beads. Venetian beads have been associated largely with the production styles which have been sold for the past thirty to forty years. However, in researching the history of beads, you will find that for centuries, the Muranese and Venetians have been making beads with the dots now associated with lampwork. In fact all of these beads come under the heading of Wound beads, since taking the molten cane in hand, the canes are wrapped around the mandrel. Venetian Glass Jewelry made with lampwork beads is ever popular.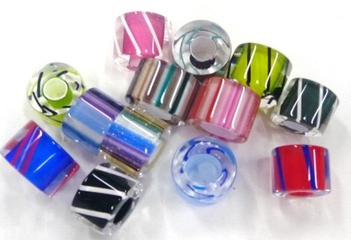 FURNACE/CANE GLASS BEADS

​

Since most beads are made from the Moretti (and now a new company just outside Venice called Vetro Fondo) Furnace Glass Beads are different in that they are made by real glass blowers in real Murano Glass Furnaces. The glass is different from the softer Moretti glass, even though the composition is still soda. The glass used in this furnace is more like Pyrex in that the glassblowers can blow these to very thin walls and that each bead is annealed in the oven overnight insuring that all stresses are relieved. This makes for a very strong bead. They use the zanfirico method for many of the beads. All the canes used in these beads are made on the premises of this furnace. Murano Glass Jewelry produced with furnace glass gives you great splash of color.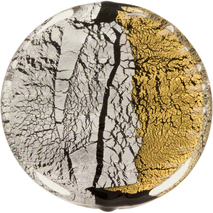 VICENZA GLASS BEADS

​

The Vicenza line uses patches of 24kt gold foil along with .925 sterling silver foil. Vicenza brings to mind the opulent piles of silver and gold exhibited at the Vicenza O'ro shows gleaming and enticing. They use a base of either transparent colors of Murano Glass or opaque to create the background to display the bright bling of the gold and silver.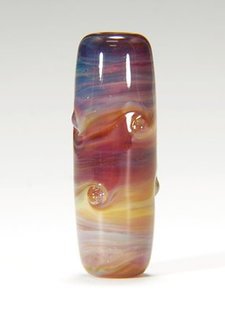 LUNA BEADS

​

Luna Beads incorporate a base of one of the transparent colors and then has small pieces of gold and silver and little particles of avventurina  All of this is finally covered in crystal clear Murano glass. This gives you plenty of sparkle and splash along with the bright colors.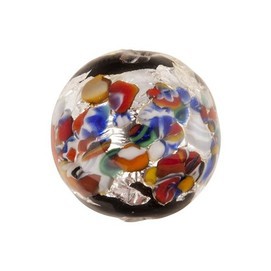 KLIMT GLASS BEADS

​

Klimt Beads were inspired by the Austrian symbolist painter, a member of the Art Nouveau movement and particularly by his "Golden Phase", where many of his paintings utilized gold leaf. Klimt traveled to Venice where the gold mosaics were said to have influenced these works. They use the bright colors and gold leaf or silver leaf in all KLIMT beads.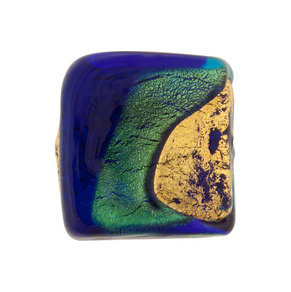 SOLE GLASS BEADS

​

Sole Beads feature transparent under colors of Murano glass encasing 24 kt gold foil with bits of the 24 kt gold foil peeping through the bright colors, like sunshine through the clouds. The 24 kt gold foil exposed will wear over time and exposure to lotions & oils. This wearing and coloring is part of the beauty of these beads. They will brighten your day!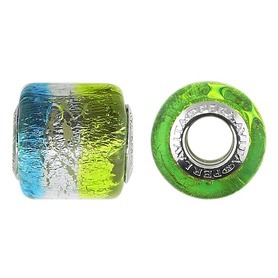 PERLAVITA GLASS BEADS

​

Perlavita is the trademark name of large hole beads and jewelry. Designed in partnership with an Italian family of bead makers  traditional Venetian beads are used with larger holes with either Vermeil (24 kt gold plate over sterling silver or .925 sterling silver). They fit such popular bracelets as Pandora, Chamilia, Love Links, Troll, Tedora and many omega chains with a hole size of a little more than 5 mm. Enjoy your Venetian Beads easy to make Venetian Jewelry.

Whatever the style of the bead or the technique used in making it, Venetian beads are popular and valued in jewelry. It's the mystic of that beautiful island, its strong people and the sense of style we have all come to know as Venetian Beads or Murano Beads.

TROLL BEADS
​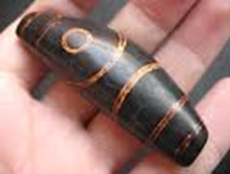 According to historians, beads were known since ancient times. It is also known that beads had different functions in different places. 

-It was an amulet

-Sometimes is was used like a modern passport- The owners of the most unique beads were confirmed as a wealthy people;

-Used as a form of dialogue. For example some ancient people wrote letters with the help of beads to their lovers;

-Played a role of money (as payment);

-It was applied by ancient shamans and mediums as the tool for their work.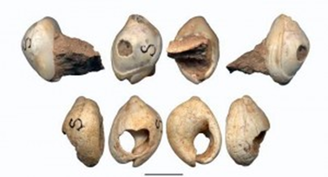 Originally the beads in the ancient times did not look like our modern beads: People used teeth, kernels and small bones (as beads) which masters turned to original ornaments.  Even small slices of stalactites from gloomy caves were used for this purpose.

These slices of stalactites were combined with beads of different sizes, a tooth of the animals killed while hunting and multi-colored bird feathers.

Besides, the most primitive drill had appeared at the beginning of a civilization that allowed us to successfully use decorative stones (for example: agate). In Egypt and Mesopotamia lazurite was processed in beads, they had round and cylindrical forms.

At the same time (approximately three thousand years B.C.) people had learnt to make beads (faience) of the burnt sand with small additives of fat clay. With development of trade and glass craft, the beads become a very demanding and profitable business. Since the 13th century, Venice became a monopolist in the field of producing beads. For a long time they stored craft secrets, exercising the power, reprisals and secret services.

But soon Egyptian glaziers started to compete with Venice in the art of making beads.  Phoenician, Danish, and Dutch beads also appeared. People developed new know-hows in the production of different types of beads. And that is why beads received popularity. Bead manufacture has passed to an industrial basis. Beaded art has not stopped in the development; it develops and surprises us every day.

Nowadays, we have a lot of different types of beads. Beads differ from each other by color, shape and size. Today, one of the most popular types of beads are the Troll Beads.

"Ancient technique in a brand new package" is a way of describing the latest production methods employed at 'Lise Aagaard Copenhagen.

The path from idea to the finished product can be paved with many difficulties, but the technique is the constant that makes otherwise unthinkable combinations of design, material and detail in the Troll Beads possible.

The Troll Beads are handmade in nature's own materials – silver, gold, pearls, jewels and glass. Some of the designs are instruments.

When the original model is in place, a 'master' is cast. This is the basis for all the future Troll Beads of this model that will eventually end up on the customer's arm. For this process an exceptional technique is used – the so-called 'cire perdu' or 'lost wax' method. 

With this you can make copies from wax to precious metals so precise that even the smallest crack is reproduced.

This technique is 3,000 years old and has been used by Indian goldsmiths travelling from town to town with their crucible, by Chinese smiths casting tea-pots and by our own smiths casting the famous lures. This was quite a feat in those days when you consider the difficulty and importance of keeping a steady temperature in order to get a good result. A problem that has been overcome by today's smiths, well, almost!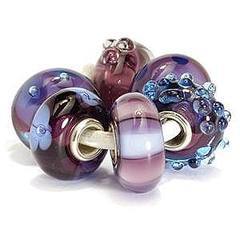 Troll beads are the unique jewelry line.  For over three decades the people have been creating troll beads that have history, beads that tell a story.  Troll beads are affected by mythology, astrology, fairy tales, fauna, flora, cultural diversity and familiar themes from everyday life. For many years collectors have found many different   troll beads and continue to collect and find meaning in each bead, telling their story.  Every Troll bead has its  own history and just like the person who created it, troll beads continue to advance and increase popularity.
  
Troll beads are an entire world in a piece of jewelry. They are sun & shadow, fire & water, Yin & Yang, black & white; each other's opposites and symbiosis. They are a tribute to the world's diversity. No two of the 400 different Troll beads are alike, that is what makes them so unique. What they do have in common, though, is that they all can be strung on a chain of gold or silver, that every single one is an original and that they consist of the highest quality materials available – but here is where the similarity ends. More than 20 designers from Denmark and abroad have created the Troll beads; designers with a variety of backgrounds, philosophies, experiences, thoughts and dexterity. This immense variation gives an idea of Troll beads scope. The designers are all invited to do a specific task, but all have managed to convey their own message. Some have a knack for geometric designs; some excel in the creation of light and shadow; some have a talent for daring combinations and dazzling play of colors while others excel in the creation of animals, mythological figures and trolls.

They are creative, original and dynamic. It goes without saying that some troll beads sell better than others. Certain pieces will inevitably become hits. The earliest models, Troll beads that have been around for 30 years, are in fact some of the best-selling pieces of the collection such as the"Lucky Knot". The designers work in eighteen-carat gold, sterling silver, Italian glass, pearls and precious stones. Some have been modeled straight out of the hard metal, some have been cast in wax and others have been molded from the red-hot glass in the open flame.

It is this diversity that gives the customer the unique experience. She becomes the designer when she creates her own personalized jewelry, and she decides which story she wants it to tell. It is a far cry from the tiny kitten, gazing apprehensively upwards, to the massive Valentine Troll bead, adorned with three Swarovski crystals, in an entirely new triangular Troll bead.

Many Troll Beads have modest stories to tell; stories of the past, symbolic tales of lost civilizations, and H.C. Andersen's fairy tales to name a few; others tell tales of the cosmos, the ocean or even nature itself. It is magic, witchcraft and mystique.

Some Troll beads almost taste like candy, smell like perfume or conjure up sounds of the crashing waves. Troll beads stimulate all the senses and imagination knows no boundaries. The variations of Troll beads are endless – but they last for a lifetime.

New Troll beads are created constantly, in new shapes that continue to revitalize the collection.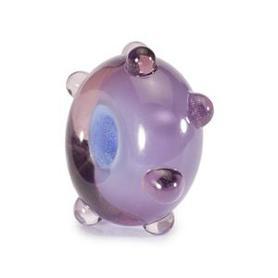 TROLL BEAD JEWELRY
This can be done with materials as diverse as their projects. You can have a glass Troll Beads, silver, gold…and that's just to name a few!

A quick glance at online malls and online shopping sites will show you a lot of Troll Bead jewelry made for different people and tastes, which is driving collectors crazy.

It returned to Denmark, 1976, when it started a trend.  Soren Nielsen created the first Troll Bead Jewelry –silver "Mask", and used a wax model for it plus the bored hole, allowing you to connect these beads.

Moving forward in 1980, Lisa Aagaard initiated the apprenticeship to the establishment of various structures, such as necklaces, bracelets, etc. She began testing other materials from which Troll Beads could be made of, and from her creative efforts, was born the first Glass troll Bead and took fashion by storm.


GLASS TROLL BEADS

​

The first Glass Troll Beads were actually created in 1980 by Liz Aagaard. Unfortunately, because of the difficulties in creating designs in full specifications caused it only to be released in the early 90′s.

But the good thing – now you can actually choose from different varieties of Troll Beads, each of which has its own design and color. Simply put, you can always have one that suits your taste.

GOLD TROLL BEADS

​

Projects of Gold Troll Beads can be very different from each other. You will be asked to select one of the animal, fairy tale characters, or even just conceptual shapes. Gold Troll Beads go hand in hand with a glass Troll Beads you make your own concepts for a necklace or bracelet.

LETTER TROLL BEADS

​

So if you want to personalize your bracelet or necklace? You can choose from the letters in the alphabet which is built in the development Troll Beads. You can purchase different beads to create your name or initials perhaps.

OOAK TROLL BEADS

​

OOAK Troll Beads, created by the hands are totally unique from the others.

These Troll Beads came from those that leniency was excluded because it turned out there were no orders. But this is the exact reason why these beads appreciated!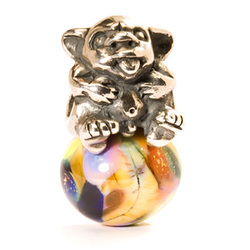 RETIRED TROLL BEADS

​

You can also call these beads as retired ones because it would only be a matter of time before they're completely out of stock. But still, they are there to give way to new versions.

Some Troll beads almost taste like candy, smell like perfume or conjure up sounds of the crashing waves. Troll beads stimulate all the senses and imagination knows no boundaries. The variations of Troll beads are endless – but they last for a lifetime.

New Troll beads are created constantly, in new shapes that continue to revitalize the collection.

SILVER TROLL BEADS

​

This is a collection of Silver Troll Beads which began in 1976. There are many options, shapes and sizes, as well as many years that have paved the way for the Department of Silver Troll Beads. It also comes in many mythical and fairy tale characters who want to add more taste to it.

TROLL BEAD BRACELETS

​

You can get Troll Bead Bracelets that still need to be put together or you can get a ready-to-use and completed bracelet if you do not have the time. Chains for Troll Bead bracelets can come in gold, silver, leather, or even by your own choice.

TROLL BEAD CLASPS

​

Troll Bead Clasps, either in gold or silver, give you the privilege to take them and change them. They come in a variety of structures, like animals, flowers, etc. But if you prefer plain Troll Beads, that would be just fine.

One can say that the new designs and options Troll Beads come, will still be the best gift you can give your loved ones or even just to treat yourself.