​​

Bar and Ring - Toggle Clasp​
A toggle clasp is a simple, straightforward type of closure that consists of an open ring on one side and a small bar on the opposite side. The bar slides into the ring and is turned so that it cannot fall back out, thereby holding the chain together.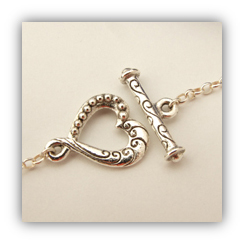 Make your own Hook and Eye Clasp with a little wire or buy them pre-made. This type of clasp is made up of a simple hook on one side and an "eye," shaped like a figure "8" for the other side.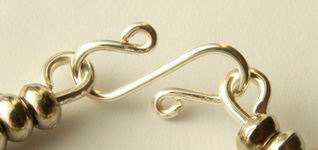 A Box Clasp, also known as a tongue-and-groove clasp, is a hollow, box-like clasp with a groove into which a metal tongue is inserted and clicked securely into place. The box features a notch on one end with a metal spring that slides into place within the box.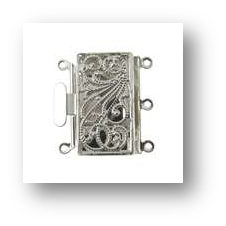 A Lobster-Claw Clasp uses a hinged hook that is similar to the shape of a lobster claw to secure the two ends of the bracelet or necklace. and they are one of the most secure of clasps, so, if you have an extra heavy piece of jewelry, they are your best bet. They are also very easy to operate.  The Lobster-Claw Clasp kind of look like the claw of a lobster, They come in silver, gold, gold-filled, and base metals. They are also available in lots of different sizes.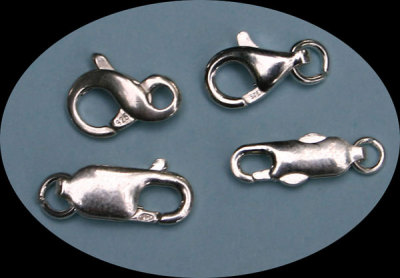 A Magnetic Clasp uses a strong magnetic piece embedded in the clasp to very easily and securely hold a piece of jewelry secure and closed. Very popular for people who find the fiddly bits of the other types of clasps too hard to manage.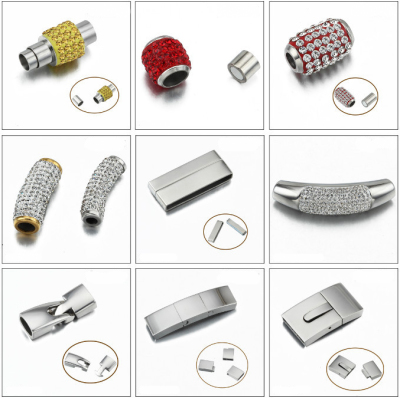 A Spring-Ring Clasp is one of the most commonly used types of clasps for necklaces.  It features a spring ring on the end of a chain. It has a tension-held knob that can be manipulated to open a small gap in the circle, allowing a hook on the opposite end of the necklace to hook into place.  Once the spring is released the circle closes and is held in place by the tension in the spring.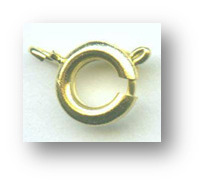 A Screw Clasp is a necklace fastener consisting of two short barrels with screws that connect. They are Available as rounds, ovals, barrels usually made on a screw machine, they can be quite decorative and come in Brass, Gold,  Sterling Silver, Platinum, or Copper.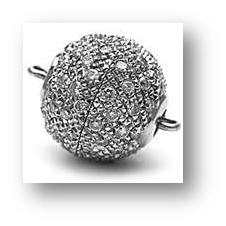 A Slide Clasp is a jeweled fastener. It gets its name from the fact that it slides into place on a ribbon or chain to hold it in place.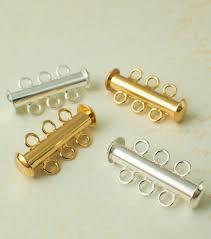 A Barrel Clasp is a type of jewelry clasp that fastens the ends of either a necklace or bracelet together by screwing two pieces together that form a shape of a barrel.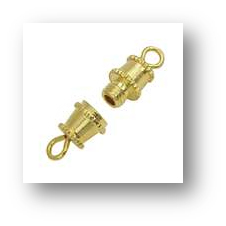 A Fold-Over Clasp has a box-shaped clasp that opens to reveal a small hook. The tongue of the opposite side of the piece then slides in place over the hook to secure it in place. For extra security the lid of the box then closes, preventing the tongue from coming loose. This type of clasp is popular on both bracelets and necklaces.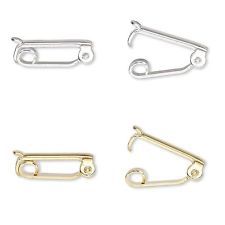 A Hidden-Box Clasp is a type of clasp designed to be discreet. It hides a box under the last link of a chain and, with the exception of the release lever, it otherwise looks completely uniform with the rest of the chain when closed.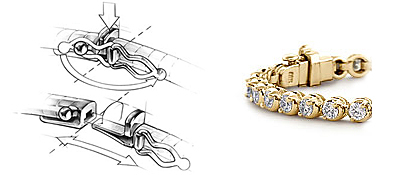 These are most of the different types of clasps commonly used, and often the clasp type used will depend on the overall design and style of the piece as well as its particular demands. Though the clasp type probably won't be the deciding factor in whether or not to purchase a piece of jewelry it is certainly worth considering.